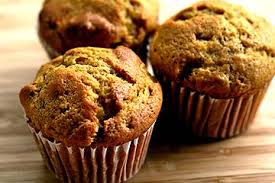 Oops, I mean her gluten free  Pumpkin Oatmeal Spice Muffins. Sandy often bakes these muffins in the mornings before a workshop and brings them to share. They are qi-filled and certainly add to our happiness!
Pumpkin Oatmeal Spice Muffins (Gluten Free – GF)
2 & 1/2 cups flour…….equal parts brown rice flour & almond meal
2 teaspoons baking powder
½ teaspoon baking soda
2 teaspoons pumpkin pie spice
1 teaspoon ground cinnamon
½ teaspoon kosher salt
1 cup old fashioned rolled oats….(not all oats are GF; be sure you buy GF ones)
¾ cup buttermilk
1 & 1/2 cups solid packed pumpkin puree…..not pumpkin pie filling
2/3 cup vegetable oil
3 large eggs
1 cup firmly packed dark brown sugar
1/3 cup granulated sugar
¼ cup raw or turbinado sugar for sprinkling
Preheat oven to 350 degrees
In a large bowl pour buttermilk over the oats, stir to combine and let sit for 30 min.
In a very large bowl sift together the flour, baking powder, baking soda, spices & salt. Set aside.
After oats have soaked for 30 min. stir in pumpkin, oil, eggs, brown sugar & granulated sugar until smooth.  Add pumpkin mixture to the flour and fold together gently, just until combined.
Over mixing leads to tough muffins.
Spray 2 standard size muffin tins with non- stick cooking spray or use muffin paper cups in the tin. Fill each muffin cup with approximately 1/3 cup of batter. (I use a generously filled soup spoon). There will be enough batter for 18-24 muffins, depending how much batter you put in each cup.
Sprinkle ½ teaspoon of raw sugar over each muffin……I use less, otherwise too sweet.
Bake muffins 25-30 min. until a toothpick inserted into each comes out with only a few moist crumbs clinging to it. Cool muffins in the pan on wire rack for 5-10 min. Remove carefully.